Healthy And Necessary Return
January 2nd, 2022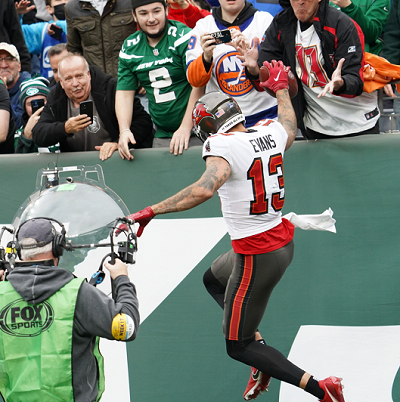 A lot of fans wanted Mike Evans to sit out today's game and rest his healing hamstring.
Joe is so glad Evans suited up.
He came off the COVID list late in the week and had very little practice time — and the Bucs should have been able to beat the Jets without him. But that clearly was not the case.
Evans didn't look at full strength against the Jets this afternoon, and Bucs coaches had him on a pitch count, but Evans made a serious impact. He finished with 4 catches for 47 yards and a touchdown on 7 targets. Without Evans' presence to help open the field for other receivers, Joe is sadly confident the Bucs would have lost today.
Evans appeared to make it through the game with out a hamstring setback, and now he needs just 54 yards receiving to extend his streak of 1,000-plus yards seasons to eight years.
Evans owns the record for most 1,000–receiving yard seasons to start a career.
Another key performance for the best receiver in Bucs history.