Bucs Have Two Team Psychologists
January 4th, 2022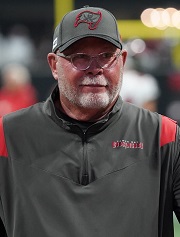 Joe's nearly ready to punch a wall listening to all the amateur mental health experts and alleged Antonio Brown insiders.
Nobody with a microphone or a keyboard knows what's going on with Brown, or what's been going on the last week or six.
For all anyone talking knows, Brown has been "getting help" for months and is doing fantastically well based on where he was or wasn't.
Chatting yesterday with Dan Lucas of WFLA-TV, Channel 8, Bucco Bruce Arians noted that the Buccaneers have two team psychologists available for players. And Arians said the organization does a great job letting players know what assistance is there for them.
Joe is really getting annoyed by the tired line of those saying, "I hope Brown gets the help he needs." Again, Brown might be getting lots of help — for months. It's not like the guy hurt someone or threatened anyone. He quit his job, said a unique strange goodbye/thank you to NFL fans and walked out the door topless.
Joe has known many dudes in offices from Largo to Lakeland who dream of standing up from their office desks, ripping off their ties and shirts and throwing them into their boss's cubicle, and then waving goodbye to everyone watching and walking out the door. Some of have done it, and all surely would have if they had Brown's bank account.
Maybe, just maybe, Brown simply is the kind of guy who doesn't love football enough any longer to tolerate whatever it is he doesn't like about it — and whatever standard he must live by to stay in the league. He's sort of been telling everyone that since quitting on the Steelers in 2018.
Rant over.