Buccaneers 31, Eagles 15
January 16th, 2022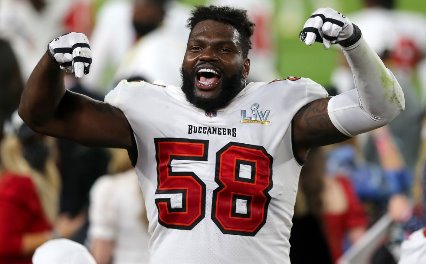 You just witnessed exactly what domination feels like, smells like and looks like.
What a performance by our mighty and beloved Buccaneers, winners of 22 of their last 26 games!
Everything worked for the Bucs today, a fantastic display that should give every last Bucs fan major confidence that the champs can and will repeat.
How about the running backs! No Playoff Lenny or Ronald Jones? No problem.
Ke'Shawn Vaughn rumbled for 53 yards on 17 carries and a touchdown. And Giovani Bernard announced his return with authority with 45 yards on 1 carries and a touchdown. Plus Bernard had 5 catches for 39 yards. Joe found it very interesting that Le'Veon Bell was not involved; that tells Joe Tom Brady wanted Bernard in a big way.
Mike Evans showed everyone he's still healthy, going off for eight catches on nine targets, a touchdown, 114 yards and one bad backflip.
Joe also loved a couple of tough catches by Tyler Johnson, and it was good to see Rob Gronkowski get the job done even though he wasn't called upon much.
The defensive backs were the heroes of the day, outshining the return of Lavonte David and a minor Devin White revival. Jordan Whitehead, Mike Edwards, Jamel Dean and friends were outstanding. Awesome stuff.
Brady, of course, was nearly flawless — 29-for-37 for 271 yards and 2 touchdowns.
Joe is so fired up. The Bucs look like champions!
Stick with Joe for plenty out of this game. 
Eagles time of death, 3:11 p.m.
Philly fans are pissed. pic.twitter.com/tzDdLfok3m

— JoeBucsFan (@JoeBucsFan) January 16, 2022