Tristan Wirfs Goes Down With Ankle Injury
January 16th, 2022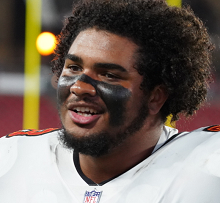 When's the last time Tom Brady took four hits and three sacks in the first half of a football game?
No surprise it happened today with mighty right tackle Tristan Wirfs, who was hobbled very early against the Eagles with an ankle injury. Wirfs came back late in the first half and quickly allowed a sack to old man Eagles edge rusher Ryan Kerrigan.
Later, reserve tackle Josh Wells allowed another sack to Kerrigan, who didn't have a sack all season.
It's Wirfs' first injury as a professional. Joe was bitter that the Bucs put him back in the game with a 17-point lead.
Wells played well but appeared to injury his ankle or leg late in the first half. Fox reporter Erin Andrews confirmed at halftime that Wells is hurt.
Some folks thought losing Antonio Brown was a big loss in the Bucs' quest to repeat as champs. Joe feels comfortable saying losing Wirts would be bigger.
Get well soon, Tristan!