Bruce Arians: Unsportsmanlike Conduct Penalty On Tom Brady Was "Totally Uncalled For"
January 24th, 2022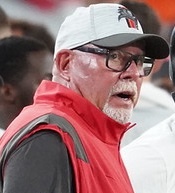 Remember when Von Miller launched his helmet into Tom Brady's face and left it bloody yesterday?
You know the play. Tom Brady was flagged for complaining, known officially as an unsportsmanlike conduct penalty. It was the first of Brady's career.
Bucco Bruce Arians was asked about it this evening on his Buccaneers Radio Network show. The head coach didn't hold back.
"Totally uncalled for," is how Arians described the call, noting Brady's bloodied face. "I don't think any other referee in the league would have thrown the flag."
The penalty was called by Shawn Hochuli, who explained himself after the game. "He got in my face in an aggressive manner and used abusive language," Hochuli said of Brady. "As for the hit, we did not think that it rose to the level of roughing the passer."
As Joe wrote earlier, it will be very interesting to see if the NFL fines or suspends Miller for launching helmet-first into Brady's face — a strike that should rise to the level of a serious penalty.