How Much Will Von Miller Be Fined? Suspended?
January 24th, 2022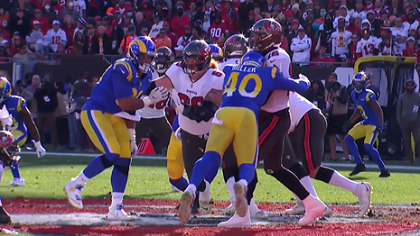 The officials are not why the Bucs lost yesterday, but Joe is still steamed by one of the worst calls/non-calls in NFL playoff history.
Check out the screenshot above. It's Rams edge rusher Von Miller launching himself (he even took a little hop-step before liftoff) helmet-first into Tom Brady's chin. As you can see in the image, Miller is airborne and nobody pushed him into Brady. Bucs left tackle Donovan Smith is in the lower left corner of the image watching the play. Nice view, Donny!
Brady completed the pass to Mike Evans and ended up with a bloody lower lip and/or mouth.
Miller was not flagged, even though there is a referee assigned to watch the quarterback. Brady got an unsportsmanlike conduct penalty for complaining to the official.
It was the first such penalty of Brady's career, and it's just not a call that happens in the NFL like it did in this case early in the second quarter. This isn't the NBA where a technical foul would be assigned.
Today, Joe is wondering how much cash Miller will be fined for launching head-first into a quarterback's grill. Will he be suspended a game? He should be. It was intentional.
The wild thing about this for Joe was Brady coming back on the next play and throwing a sick touch pass while scrambling to Leonard Fournette, which Playoff Lenny hauled in with one hand. A perfect throw on 2nd-and-17 for a first down.
Some quarterbacks would have been completely rattled by the previous play and penalty. Brady? He took his bleeding face back to the huddle and was laser focused.
Man, Joe hopes that guy comes back to play.