Antonio Brown Sends A Message
January 24th, 2022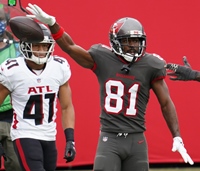 It seems Antonio Brown was rooting for our beloved Buccaneers to lose yesterday.
What a special guy.
Joe understands rooting against a team that cut you. It's a competitive business with ultra-competitive people thriving in all areas of the game. That makes sense.
But it's not like Brown has a new team and he had been stating his love for his former Bucs teammates publicly. So Joe looks at Brown's postgame Twitter message below and thinks it's fair to say Brown isn't a very classy dude.
Sadly, this is no surprise. Brown is a Brown-first kind of guy.
Still Joe has no ill will toward Brown. The Bucs got exactly what they signed up for in 2020 and re-signed up for in 2021. Brown helped the Bucs win a Super Bowl and was a contributor to this year's strong team.
Joe's just glad that the absence of Brown isn't why the Bucs lost yesterday, though Joe suspects one could try to make that case.
— AB (@AB84) January 24, 2022