Tom Brady On Pace For 48 Touchdowns And 14 Interceptions
December 5th, 2021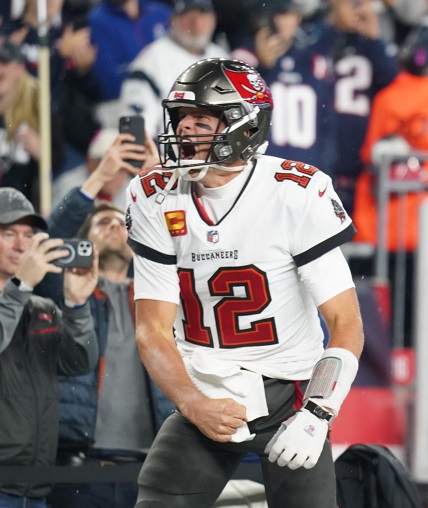 Heinous second-quarter gaffe aside, Tom Brady was an absolute beast today in Atlanta, extending his career record against the Falcons to 10-0.
And now Brady is racking up more historic numbers. His four touchdowns today make him the Buccaneers' single-season franchise leader. He's got 34 TDs, passing Jameis Winston's 33 in 2019.
Brady also is on pace for 48 touchdowns and 14 interceptions for the season. Brady only has eclipsed 40 TDs once in his career. That was his historic 50 during the 2020 season.
Overall, Brady's final line was  38-for-51 for 368 yards.
The NFL day isn't over, but Brady entered Sunday's action leading the league in pass attempts, completions and touchdowns. Joe's confident he'll make it to Week 14 comfortably atop those three NFL perches.
The Bucs came out throwing and throwing and throwing with their superstar 44-year-old QB.
Smart move.