The Worst Of Gronk
December 20th, 2021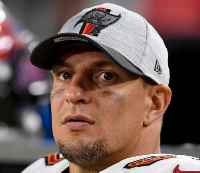 It's somewhat comforting to know that the Bucs' offensive struggles last night had a lot to do with one of the very worst games of Rob Gronkowski's career.
In theory, that should never happen again.
The bruising, hulking, athletic and aggressive Gronk of the previous four games was nowhere to be found.
Gronk had 11 targets, the most he's had since the 2018 postseason, and he caught just 2 balls for 29 yards, and it was a variety of Saints defenders frustrating him. But most notable was Gronk's two bad drops (at least) on deep throws and a lack of fire compared to recent games.
Joe is going to hope and pray that it was just one of those days versus Gronk feeling some wear and tear.
It's a little sad that on a day Gronk was struggling, it's apparent the Bucs don't really have other tight end options to lean on. Cameron Brate is obviously past his prime and O.J. Howard has transformed into a blocking tight end who has lost the confidence of the guys in charge of getting him the football.
Joe does expect Gronk to bounce back strong next week at Carolina. It's beyond critical.