The Ultimate Influencer
December 29th, 2021
BY IRA KAUFMAN
I've owed a great debt to John Madden for the past decade.
Ed Sabol was one of 15 modern-era finalists for the Pro Football Hall of Fame Class of 2011 and I was chosen to make the case for the creator of NFL Films. The man was 94 years old and this was his only realistic shot to earn a gold jacket, so there was considerable pressure heading into my first presentation as Tampa Bay's lone representative on the Selection Committee.
Also on the ballot were Deion Sanders, Marshall Faulk, Shannon Sharpe, Richard Dent, Curtis Martin, Dermontti Dawson, Cortez Kennedy, Andre Reed, Willie Roaf, Tim Brown, Charles Haley, Jerome Bettis, Cris Carter and Chris Doleman.
Because only a maximum of five could be chosen, Sabol faced a major challenge. Years later, he would have been placed in a separate contributor category, but in those days, he was up against elite players.
The Super Bowl was in Arlington, Texas that February and The Tampa Tribune sent me early in the week. I talked to a few people about Sabol's impact on pro football and typed up my presentation.
On Thursday, I noticed Madden was handing out an award at the Convention Center that afternoon, so I went over and waited for him to finish. I told Madden I would be speaking on Sabol's behalf on Saturday and asked for a comment.
He needed no prodding.
"What is the National Football League without its history?" Madden told me. "And we would have no history without Ed Sabol and NFL Films. The man has to go into the Hall of Fame, no questions asked."
Two days later, I ended my presentation with Madden's remarks. Within a few hours, Ed Sabol had a bust in Canton and I have to think Madden may have put him over the top.
On Super Bowl Sunday, I got off the elevator at Cowboys Stadium and the first person I saw in the press box was Ed's son, Steve Sabol.
Although we had never met, Steve approached me with tears rolling down his cheeks and gave me an enormous hug, saying, "We can't thank you enough, Ira."
In my 45 years in this business, that moment remains right near the top.
The Highest Plane
Special people have special clout with Hall of Fame selectors.
When I made the pitch for Warren Sapp in 2013, I closed with the following comments from Bill Belichick: "The combination of Sapp and Derrick Brooks was the closest I've seen to Joe Greene and Jack Ham. But Sapp played closer to the ball and if you didn't handle him, nothing else mattered."
Madden had the same gravitas.
Who else was going to last 10 years as a head coach for Al Davis, who demanded excellence? When Madden ended his fabulous run with the Raiders following the 1978 season, he did it on his own, walking away while Davis pleaded for him to stay.
The Tampa Bay region played a critical role in Madden's broadcasting career. The first game he and Pat Summerall ever worked together came on Nov. 25, 1979 in a matchup between the Bucs and Vikings at Tampa Stadium.
Minnesota won 23-22, blocking a punt and two extra-point attempts as the Madden-Summerall tandem made its debut in the booth. Madden's legacy is unique because the man was universally beloved.
How rare is that? Try naming some others.
Tom Hanks? Maybe. Magic Johnson? Perhaps. Willie Mays? Could be.
Whether it was turducken or fast-acting Tinactin, Madden was a whale of a pitchman. He could sell anything because he was genuine.
Tied To Brady
Twenty years ago, Tom Brady made Madden eat his words with the whole world watching.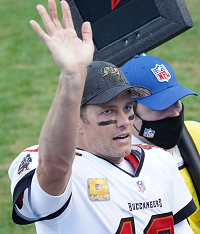 The Rams had just tied the Patriots 17-17 with 90 seconds remaining in the Super Bowl when Brady took over deep in his own territory. Madden suggested it would be wise for the 14-point underdogs to sit on the ball and head into overtime, but instead Brady led a long drive that ended with Adam Vinatieri's 48-yard FG as time expired.
From that day on, Madden became a huge Tom Brady fan. When Madden died Tuesday at the age of 85, Brady was crestfallen.
"RIP to a legend of our game," Brady said.
It was Madden who once suggested the busts in the Pro Football Hall of Fame speak to each other when the lights go out.
He and Ed Sabol, who passed away in 2015, must have had a heck of a conversation last night.
---