Saints 9, Buccaneers 0
December 19th, 2021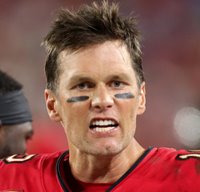 The unthinkable is now reality.
The Bucs just imploded and lost to the battered and depleted slimy Saints. And now the Bucs (10-4) will need a Christmas miracle to gain the No. 1 overall seed in the NFC, as they sit a full game behind the Packers with just three games to play.
And yeah, the Packers also own the conference tiebreaker on the Bucs.
What makes things even more ominous, there's a great chance the Bucs could face the Saints (7-7) in the playoffs in four weeks.
Hats off to the Bucs defense for suffocating nearly everything the Saints did tonight. Joe Tryon-Shoyinka made an impact rushing inside and outside. Lavonte David had a bounceback game. Alvin Kamara was a non-factor and the secondary played well.
On offense, it's way too easy to blame in-game injuries to Leonard Fournette, Mike Evans and Chris Godwin. The offensive line showed cracks. Some bizarre short-yardage playcalls didn't help. And Tom Brady looked average — throwing to receiving depth that was less than average.
Special teams? Ryan Succop missed his fourth field goal of the season (he missed three last year) and Jaelon Darden returns punts and kicks like the bad Dexter Jackson, which is no compliment whatsoever.
This one was a soul-crusher.