RoJo Carried The Load, Should Improve
December 26th, 2021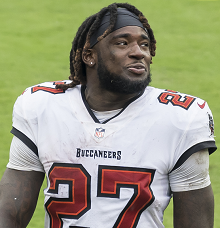 Ronald Jones proved again today that he can't pass block or catch, but he sure can tote the rock.
RoJo didn't tear it up against Carolina, but he sure looked like a guy that can handle the 20 carries he got today. RoJo finished with 65 yards and a touchdown in the absence of Leonard "Lombardi Lenny" Fournette.
Remember, Bucco Bruce Arians said RoJo was gassed at one point last Sunday, a game in which he had just 8 carries. So Joe strongly suspects RoJo got his full No.-1-back legs under him today and will be better for it moving forward.
Yes, Ke'Shawn Vaughn provided one hell of a spark today to complement RoJo, but this is RoJo's job for the next two weeks and possibly for the playoffs if he can continue to prove reliable.
Given RoJo's fragile psyche over the years, Joe also thinks today's game was great for RoJo's head.