Your NFC South Champion Buccaneers!! Buccaneers 32, Panthers 6
December 26th, 2021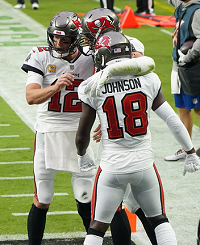 What a glorious tonic today has been after last Sunday's debacle.
Our beloved Bucs have won their first division title since 2007!
It took 14 years for the Bucs to take back control of the NFC South and Joe is savoring every second of it after the Bucs locked up the crown with a commanding crushing of the Panthers today in Carolina.
The Tampa Bay run game needed to revive, and it did in a huge way. After three quarters, the Bucs had 135 yards on the ground on 23 carries. Ronald Jones found the end zone and Ke'Shawn Vaughn exploded for a gorgeous 55-yard touchdown.
The Bucs defense remains sizzling hot and has not allowed a touchdown since in eight quarters plus an overtime.
Be grateful, Bucs fans. Be grateful, you're not a Panthers, Saints or Falcons fan. Not only do those teams stink, they're 2022 futures look grim.
Welcome back, Antonio Brown!
Keep up the dominance, Jordan Whitehead!
And take a bow, offensive coordinator Byron Leftwich. You just called a strong game with a depleted cast against a quality Panthers' defense. Nice bounce-back after last Sunday's mess against New Orleans.
Tom Brady and the offensive line are healthy, and Joe is very confident The Goat will guide the Bucs to two more wins — a 13-4 record — while at least a couple of key Bucs pieces get healthy.
Get your playoff tickets! And say your prayers that Shaq Barrett's knee injury isn't serious.
Joe's calling it early.
Congrats, Bucs, on winning your first NFC South title since 2007!!!

— JoeBucsFan (@JoeBucsFan) December 26, 2021