Mirroring 2020
December 29th, 2021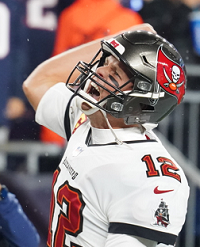 Is it bad for our beloved Buccaneers to close this season against three weak football teams?
Joe was hit with that question by a fan last night and on Sunday. Joe's reply both times was, 'Don't be ridiculous.'
Last year Tampa Bay closed the season with two games against the miserable Falcons and their interim head coach, with the lousy Lions sandwiched in between. The Bucs were tested big-time in the first matchup with the Falcons and trailed 17-0 at halftime, but that doesn't mean the Falcons were any good. They finished 4-12, so don't start cheerleading Matt Ryan.
Finishing against NFC weaklings did not soften the Bucs for the playoffs. In fact, it probably helped them fine tune their game without getting the crap beaten out of them by more physical opponents and (to borrow the baseball term) high-leverage situations.
The Bucs don't need stud opponents to get sharp for the playoffs. It just doesn't work that way. Let Dallas be in a dogfight with the Cardinals on Sunday afternoon before they take on red hot Philadelphia in their season finale.
Joe's all good with having the beasts of the Bucs' schedule in their rearview mirror and getting right against the likes of the Jets and Panthers (again). It worked just fine in 2020.