Locking Down A Hall Of Fame Bust
December 5th, 2021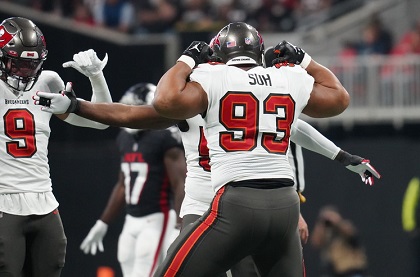 Joe's appreciation of Ndamukong Suh grows weekly, a little more than usual today after the legendary defensive tackle sacked Matt Ryan twice.
It was the fifth and sixth sacks of the season for Suh, matching his 2020 total. More important, Suh is improving as this season marches on.
He is five seasons removed from his last trip to the Pro Bowl (2016 with the Dolphins), but Suh may be having his best season since he was a force on the 2018 Super Bowl Rams. Defensive tackles just don't do this at 34 years old. Warren Sapp had 10 sacks at 34 with the Raiders, but Sapp was a one-of-a-kind Hall of Famer.
Suh is, too, Joe believes.
Suh has missed just two games in his storied career and has been an anchor on excellent defenses, and Joe is putting the Bucs' stout run defense since 2019 in that mix.
Obviously, Suh is in a fantastic position playing alongside Vita Vea, but that doesn't detract from his production.
During these historic Bucs times, Joe believes our beloved fans are watching future slam-dunk Hall of Famers in Suh, Rob Gronkowski, Mike Evans and Tom Brady — all at the top of their games.
For a little perspective, Suh now has 70 1/2 sacks, a huge number for a defensive tackle. Geno Atkins, also drafted in 2010 like Suh, was an eight-time Pro Bowler who racked up 75 1/2 sacks. He is out of football this season after 11 years with the Bengals.
Joe will be rooting hard for Suh to find his way to 10 sacks this season. That may mean the Bucs have to cough up more cash in the offseason, but it will be well deserved if he stays healthy and hungry to keep playing.