Ira Kaufman's 10 Takeaways From Bucs-Falcons
December 5th, 2021
BY IRA KAUFMAN
They're just so damned talented.
On a day they forgot how to tackle or close out an opening half, the Bucs just swept the Falcons for the second consecutive year, forging a 4-game lead atop the NFC South with only five weeks remaining.
The Hall of Fame combo of Tom Brady and Rob Gronkowski came up big, but save some game balls for Chris Godwin and an offensive line bursting with pride and skill.
The Bucs didn't play a great game, yet they covered the spread and took another step toward challenging for the NFC's No. 1 playoff seed.
There are plenty of areas to improve, but Brady was sharp overall and nobody missed Antonio Brown.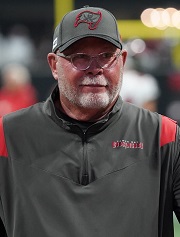 Atlanta couldn't cover Godwin long, short or in between and Mike Evans had a nice game. Leonard Fournette continues to be a force, leading off the scoring with a one-handed grab in the right corner.
When the front four wasn't burying Matt Ryan, Tampa Bay's defense struggled a bit, particularly on third down. Ryan Succop missed an extra point, but the Bucs improved to 4-3 on the road before a marquee home matchup against Buffalo late Sunday afternoon.
Here's how Brady continued to torment the Falcons — with a little help from his friends:
* Godwin appeared on his way to a 20-catch game before settling for a franchise-record 15 receptions. He makes the tough grab in traffic, he runs precise routes, he has soft hands and he's physical as hell. In short, he's this generation's Hines Ward. He'll break Tampa Bay hearts if he leaves as a free agent.
* Brady was on his game from the start with 15 first-quarter completions. He made a bonehead mistake late in the half but he also threw some terrific balls. Gronkowski's second TD catch was a thing of beauty on both ends.
* Brady's pick-6 was an awful throw, but the call was even worse. The Bucs were on their own 7-yard line with only 44 seconds left in the half, leading by 10 points. Then Byron Leftwich got greedy. A completion to Godwin netted only one yard and the Falcons didn't call a timeout. They were willing to let the clock run out … but Leftwich wasn't. Then backup defensive end Marlon Davidson made a superb read and interception, giving Atlanta reason to believe. Next time, run the ball.
* Ndamukong Suh and Vita Vea had a field day collapsing the pocket and getting in Ryan's face. They combined for 4 sacks and 5 QB hits, exploiting a soft Atlanta front with pressure up the middle.
* Welcome back, Carlton Davis. You've been missed. Nice return with 3 passes defended and a fumble recovery.
* No Buc offensive line has ever played this well, and it's not even close. For the sixth time in 12 games this season, Brady wasn't dropped. In fact, he was hit only once on Sunday. He threw 259 passes in those six outings without being sacked. No coincidence the Bucs are 5-1 in those games.
* We've asked it before but it bears repeating: can't anybody tackle around here? Time and again, a Buc defender was in position to make a stop and either whiffed or took an errant angle to the ball carrier. That's a big reason why the Falcons were able to convert 9-of-17 on third down and stay relatively close. Atlanta converted on a third-and-9, a third-and-10 and a third-and-14. Yes, Todd Bowles has some work to do.
* The Buc offense was a sight to behold for much of the afternoon, Tampa Bay scores came off drives of 75, 75, 75, 87 and 78 yards. Nothing cheap on this day.
* Devin White shared the team lead with 10 stops, but he doesn't look right. He's gutting it out at the moment.
* All that's left in this division race is to put a pewter bow around it. That's only Step 1 in the title chase, but it guarantees the Bucs at least one playoff game at home, where they are 5-0. Home or away, nobody wants to match up against this team in January.