Winning Overtime YAC From Rob Gronkowski
December 13th, 2021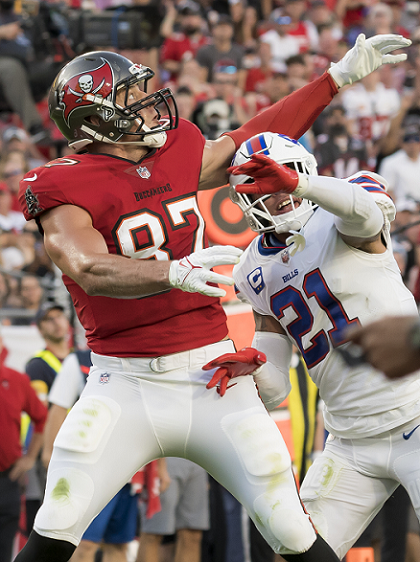 So the misguided Bucs' playcaller in the moment, Byron Leftwich or Tom Brady, made the overtime decision to throw a screen to Leonard Fournette on 1st-and-10 from the Tampa Bay-35.
The result was a seven-yard loss and a crucial 2nd-and-17 upcoming.
Brady then went to his money man, Rob Gronkowski on a two-yard throw. Gronk was tasked with barreling through and around defenders to at least give the Bucs a 3rd-and-manageable situation. Gronk made the catch and grinded through the defense for 12 yards of YAC (yards after catch).
That set up a 3rd-and-3 from the Tampa Bay 42, and that Gronk success set up the crossing-route call run by Breshad Perriman. His catch and walk-off touchdown came next.
Last week, Brady called Gronk the greatest tight end in NFL history. Joe can only argue a little, and when you can rely on your tight end to snag major after-catch yardage with the game on the line, then it's easier to call him the best ever.
Thanks, Gronk!