"I Don't See Myself In The Mirror That Way"
December 31st, 2021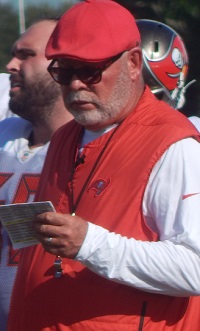 As the seconds tick by on 2021, Joe has to share the latest on the coaching future of Bucco Bruce Arians, the greatest coach in Buccaneers history.
When will the party end? Arians turns 70 next season and he's a guy who proudly says he earns a "C" grade after his annual physical exams.
As Arians recovers from The Sickness at home today, it's a good time to look at his comments last week when asked if Tom Brady will outlast him in the game.
"I don't consider myself old. I mean chronologically, yeah. But I don't see myself in the mirror that way and [Tom Brady] doesn't either," Arians told CBS Sports Radio.

"I'm just going game-to-game, week-to-week, year-to-year. Mine's all about health," Arians of his NFL coaching future.

"And right now I feel good other than I screwed up my Achilles. Other than that I feel great. So, yeah, I'm looking forward to every year [with Brady]."
Joe doesn't believe Arians has any intention of quitting no matter how this season concludes, maybe if Brady retires in February. Maybe.
Previously, Arians has said he would probably leave the game if he lost key assistant coaches. Why? Because he doesn't want to coach up coaches. Arians has said his staff doesn't have meetings like other teams do because they all know what to do.
The Bucs have the largest coaching staff in the NFL and Joe isn't trembling all night about the prospects of losing Byron Leftwich and Todd Bowles to head coaching gigs.
It's doubtful both would get jobs during this hiring cycle, and Joe suspects the Bucs have other key assistant coaches under contract to keep the train moving at least one more season with Brady and Arians.
Hopefully, the Arians-Brady party keeps rolling another two or three years.