Bruce Arians Grades His Health
March 3rd, 2020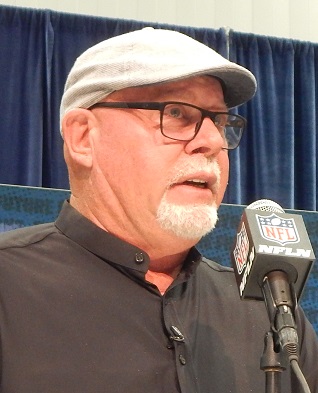 Joe talked to a true NFL insider at the NFL Scouting Combine who shared that Bucco Bruce Arians legitimately takes one year at a time and might call it quits after this season if he remains frustrated by turnovers.
Audio of that interview will be here later in the week, but it was especially interesting since Joe didn't bring up the subject.
Did Jameis Winston's interception prowess really weigh that heavily on Arians, to the point where loads of picks would make him walk away from football if they continued?
It's a fair question. Last year's 7-9 record was Arians' worst as a NFL head coach, and Joe's never met a coach whose blood didn't boil after every turnover.
At the NFL Scouting Combine last week, Joe asked Arians how he was feeling and if he went through another physical exam.
Before Team Glazer hired Arians he was sent to a Tampa hospital for a comprehensive examination, a wise move for a team that was burned by former offensive coordinator Jeff Tedford's health in 2014. Arians, 67, is a cancer survivor and had other health issues that, in part, led to his retirement following the 2017 season.
Joe assumed Team Glazer included mandatory annual physicals in Arians' contract, so Joe asked Arians if he had a fresh physical and how he scored.
Arians acknowledged he was checked out again and got another "C" grade. (Joe believes Arians said "C+," but Joe's audio was unclear). Like last year, that score made Arians proud and he said he feels great.
But is his football health up for another season of Jameis Winston turnovers? Arians says, "hell yeah" he can win with Jameis, yet he's seeking another quarterback at the same time. It sounds like Arians is looking for a less stressful option.