Byron Leftwich Named Again As A Top Jacksonville Candidate
December 27th, 2021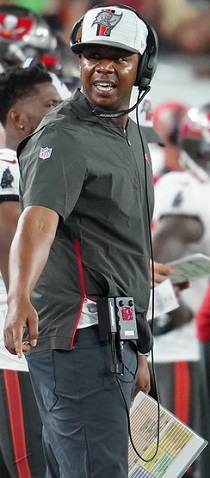 Amidst the CBS chatter yesterday that Todd Bowles is flashing brightly on the Raiders' head coaching radar, there was also news about the Bucs coach on the other side of the football.
NFL Network insider reporter Ian Rapoport shared on air Sunday that the Jacksonville Jaguars' priorities include interviewing Tampa Bay offensive coordinator Byron Leftwich, former Lions and Colts head coach Jim Caldwell, and Super Bowl-winning head coach Doug Pederson for their open job.
The Leftwich-to-Jacksonville chatter has been around for a couple of weeks, but Rapoport labeling him a priority yesterday makes it more real.
Joe's not too worried about Leftwich leaving, primarily because Bucco Bruce Arians would have himself, Tom Brady, Tom Moore and Clyde Christensen to lean on in Leftwich's absence. Joe's confident that foursome could overcome the loss of Leftwich or at least closely replicate his performance.
Bowles is a different story. He's more irreplaceable in the organization. However, it is said that Bucs outside linebackers coach Larry Foote is a true coaching up-and-comer.
The real problem would arise if both Leftwich and Bowles left One Buc Palace this offseason. That would put Arians in a bind and possibly push him into retirement.
Regardless, Joe is not worried. Joe thinks it's likely that Bowles' age (58) and brutal four-year track record as Jets head coach will keep him from getting a head coaching job.