RoJo's Return
November 23rd, 2021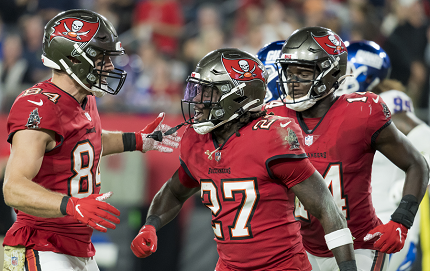 With just 23 carries in the Bucs' previous five games, it was fair to wonder if Ronald Jones had become an afterthought for Bucs coaches.
But things changed last night. RoJo got back monster status in the Bucs' two-headed running game and made the offense look more dangerous.
RoJo, still just 24 years old, was blessed with eight handoffs for 33 yards that included in impressive nine-yard touchdown run. Joe can only imagine how RoJo's confidence is soaring after doing that on national television. It was his first TD since giving the Bucs a third-quarter lead in New England nearly two months ago.
Joe is fixated on all things RoJo because Joe believes the Bucs will need to rely on him at some point. That's just the nature of the running back position. You can't assume Leonard Fournette will hold up for possibly 10 more Bucs games before the next Super Bowl.
With RoJo's revival, Gronk's highly successful return, Cam Brate looking more alive than usual and reserve guard Aaron Stinnie stepping up in a huge way, Joe believes last night was more than just a win for the Tampa Bay offense.