Ira Kaufman's 10 Takeaways From Bucs-Giants
November 23rd, 2021
BY IRA KAUFMAN
The Bucs just won a game by 20 points … and it really wasn't that close.
The bright lights came on at Raymond James Stadium Monday night and the stars came out. With John Lynch and Warren Sapp cheering from a suite, Devin White led a defensive charge that choked the life out of Daniel Jones and that sorry Giants attack.
Tom Brady was on point most of the evening behind stalwart protection and Rob Gronkowski looked sharp in his return. Even Ryan Succop got in on the action, converting all three field goal tries.
When ESPN's 157-person crew finally called it a day, Tampa Bay was sitting atop the NFC South by two games over the fading Saints and the Bucs were once again the favorites to win the Super Bowl.
In a complete effort, the Bucs refused to extend their brand of dumb football to three games. They are now 5-0 at home, where Brady has thrown 20 TD passes and only three picks.
Despite the return of Saquon Barkley, the Giants never found an offensive rhythm. They were awful on third down as a relentless Buc pass rush battered Jones into submission.
As the Giants slunk back to the Meadowlands at 3-7, the Bucs generated some momentum for a challenging matchup at Indianapolis. Job 1 for a stifling run defense will be keeping Jonathan Taylor in check.
The Bills are still chasing him.
Here's how Tampa Bay shook off the demons and quelled the concerns of Buc Nation: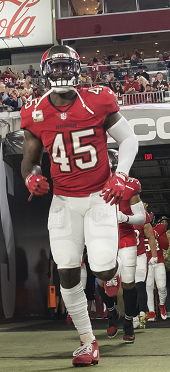 * White followed up his monster game at Washington with another splendid effort. His tipped ball led to an interception and he hounded Jones all night. He has become adept at disguising late blitzes, using his rare speed to make up ground in a hurry.
* New York converted its opening third-down situation midway through the first quarter, then proceeded to go 0-for-8 the rest of the way on the money down. No wonder the Bucs owned 11 more minutes of possession and boasted 22 more snaps.
* There were several occasions when Brady had enough protection to go through his progressions — for a second time. Aaron Stinnie played well filling in for left guard Ali Marpet. The only downer was a holding call against Tristan Wirfs, wiping out a 34-yard strike to Chris Godwin that would have given the Bucs a first down at the 1-yard line late in the first half.
* Brady did a nice job distributing the ball as four Tampa Bay players each caught six passes. Gronkowski's presence in the middle of the field and the attention he commands opens up a lot of options for Byron Leftwich.
* If you thought this game flew by, you're correct. A tidy 2 hours and 53 minutes, well short of a typical Rays-Orioles tilt at the Trop. Every Buc player who dressed saw some action.
* What was Joe Judge thinking with 6:54 remaining and his Giants down 30-10? On fourth-and-5 from the New York 30, Judge ordered in the punter. That's a white flag from a franchise representing a blue-collar town. Just awful.
* This was not a game for aficionados of downfield passing. Brady had only two completions of at least 20 yards while Jones had one. Lots of screens, lots of checkdowns.
* No receiver in the league is more crafty in boxing out a defender in the red zone than Mike Evans. The man's on pace for 17 TD catches. In his last 17 regular-season games, Evans has reached the end zone 16 times. That's called making 'em count.
* Jason Pierre-Paul had a modest game statistically, but he was a positive factor. He's playing with a torn rotator cuff, yet the Giants paid a lot of attention to him. By the way, Giants guard Will Hernandez, a former second-round pick out of UTEP, had a night to forget. He needs to hit the weight room pronto.
* This site once labeled RayJay the Den of Depression for good reason. From 2009-2019, the Bucs were 31-57 at home, reeling off 11 consecutive years without a winning record in their home stadium. Brady helped change the narrative last year, going 5-3 in Tampa, and the Bucs currently boast the best home record in the NFL. No wonder Bruce Arians hits the sheets dreaming about the NFC's No. 1 playoff seed.