"Eleven. Yard. Run."
November 23rd, 2021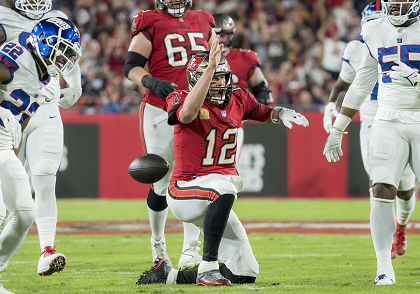 In the NFL's official gamebook for last night's Bucs win over the Giants, the distance on Tom Brady's nifty and fun scramble for a first down is 10 yards.
Brady begs to differ.
In his postgame remarks, Brady was asked about his "10-yard run." Brady quickly corrected the reporter.
"Eleven. Yard. Run." Brady said. "They don't happen very often so I do remember how far they go. It was pretty good."
Looks like Tommy's going to have to pull some strings with the NFL. It's is officially a 10-yard run. That's per the NFL official gamebook.
Joe has a hunch Brady knows how to get a hold of NFL strongman Roger Goodell.
And don't forget it. pic.twitter.com/hIpyZqOx4A

— Tampa Bay Buccaneers (@Buccaneers) November 23, 2021