Monster Numbers, No Success
November 14th, 2021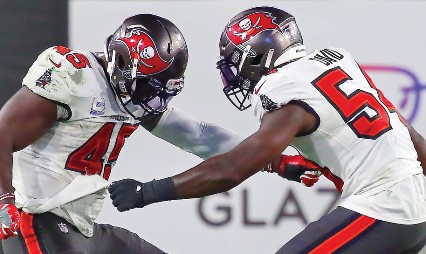 Somehow, Taylor Heinicke completed 81 percent of his passes against the Bucs on a day Lavonte David and Devin White put up a hell of a lot of production, including two sacks by White.
White was all over the field, racking up 13 solo tackles, five assists, three tackles for loss, the sacks and three QB hits. David had five solo tackles, nine assists and what seemed like a game-turning forced fumble in the fourth quarter on a beautiful punch-out as the ball carrier passed the first-down marker.
It was the biggest game of the season for both players, yet the Bucs got rolled against an inferior offense, including a 19-play drive to close out the game.
How does that happen? Coaches would say it's all about complementary football. Despite the Bucs' sacks totals, too often Heinicke escaped the pass rush or wasn't rushed, and the defensive backfield continued its struggles.
Joe was very glad to see recovering David look more active, and it was nice to see White look more like his 2020 self and avoid stupid penalties.
Fun fact: David's forced fumble gives him 25 for his career, one more than Derrick Brooks and one less than J.J. Watt and Von Miller.