"I Saw Six Times That Mike Evans Was Open"
November 15th, 2021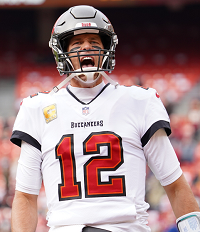 One film guru former Buccaneer got his calculator out after the Bucs' debacle in Washington yesterday.
It is said that film don't lie, and former Bucs tight end Anthony Becht is no liar, either.
Becht was confused why Tom Brady was checking down so often and went to the film to find answers. There, Becht said he found a quarterback lacking trust and having a bad day.
"I went back, and in real down-and-distance plays where they had opportunities and had time to make other completions when they did checkdowns, I saw six times that Mike Evans was open in one of those holes and seams or coming inside on the deep-ins," Becht explained on WDAE radio.

"Just literally no one around [Evans].  You have to just say it was a bad game [by Brady]. Whether he was worried about some of that down pressure, those four down linemen that happened sporadically through the game, and he felt like he had to get the ball out of his hands. I just felt like if he trusted it more and kept his eyes in those holes. Even [Chris] Godwin late in the game had a nice sit-down route about 15 years in that mid-to-left-side zone where he could have stuck it right in there."
Yes, Brady was quick to look short, despite Washington being down its two best edge rushers and lacking a superstar in their secondary. Joe saw one short throw in the red zone to Giovani Bernard while Mike Evans was wide open in the end zone.
Strange day for Brady. Joe doesn't expect to see much more of that.