The Critical Miss
November 15th, 2021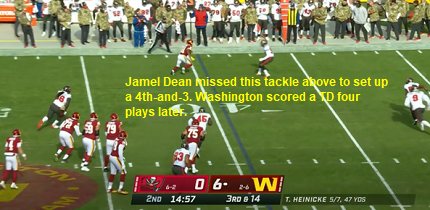 Lots of issues with the Bucs defense yesterday, but perhaps none was bigger than the 3-and-14 whiff of a tackle by cornerback Jamel Dean.
The screen shot above shows the situation. Washington QB Taylor Heinicke threw the checkdown to J.D. McKissic two yards behind the line of scrimmage. The Bucs blitzed, Heinicke spit the ball out and all Dean had to do was make the sure tackle to force a punt or a 55-yard-or-more field goal.
Instead, Dean missed the tackle, McKissic picked up 11 yards and Washington went for it on 4th-and-3. A few plays later, Heinicke threw a beautiful touchdown pass as backup of a backup cornerback Dee Delaney was beating by a half-step. Why Todd Bowles didn't blitz on 4th-on-3, Joe cannot answer that one.
That put the Bucs down 13-0 and while the offense responded and got to the red zone, Tom Brady didn't see a wide open Mike Evans in the end zone on second down. Instead, Brady threw incomplete to Giovani Bernard and the Bernard had a third-down drop before the Bucs kicked a field goal to trail 13-3.
With the aid of another bad missed tackle on third down (Devin White on Ricky Seals-Jones) and offsides calls on Ndamukong Suh and Will Gholston, the Bucs allowed Washington to respond with a clock-eating, 11-play drive to bump their lead to 16-3.
So many little things and big things went wrong for the Bucs yesterday, but Joe definitely has to put tackling high up there on the list.