Byron Leftwich A Head Coach Candidate "Based On Dozens Of Conversations"
November 17th, 2021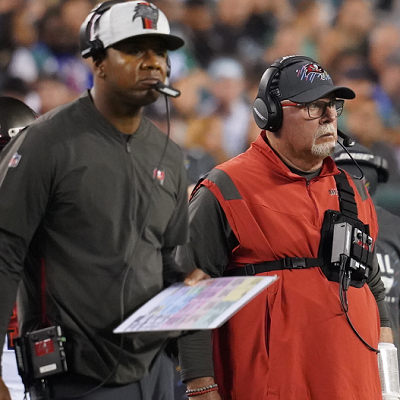 However the Buccaneers' season plays out, they may lose a key assistant coach.
And Joe suspects the top candidate would be offensive coordinator Byron Leftwich, primarily because league owners have four years of Todd Bowles' sad history with the New York Jets to review. And Bowles is neither young (58) nor charismatic.
Plugged-in NFL Network reporter Tom Pelissero has been doing his homework on head coach candidates and has compiled a breakdown at NFL.com of young coaches that will draw interest for the 2022 hiring season. Joe was interested because Pelissero said his findings are based on "dozens of recent conversations with NFL executives, coaches and others close to the search process.
On his list is the Bucs' playcaller.
Buccaneers OC Byron Leftwich, 41: One of the surprises of the last hiring cycle was Leftwich not getting a single interview request, even as he called plays for Tom Brady and a Bucs offense that made a Super Bowl run. That figures to change this time around. The 10-year NFL quarterback was once a backup in Pittsburgh under then-offensive coordinator Bruce Arians, who hired Leftwich as QB coach in Arizona in 2017 and brought him along to Tampa two years later. An uninspiring stint as the interim OC for a doomed Cardinals team three years ago under Arians' successor there, Steve Wilks, is further in the rearview now. And Leftwich continues to show he can manage a room with veterans such as Brady, who's more than two years older than his OC and has made his love for Leftwich clear.
It sure doesn't hurt Leftwich that a couple of former quarterbacks and playcallers his age, Matt LaFleur (Packers) and Kliff Kingsbury (Cardinals) have had strong success as head coaches. NFL owners love to follow trends and Leftwich seems to fall in a popular box.
Also, any NFL owner can sell himself that Leftwich has been mentored well by Bucco Bruce Arians, given a lot of freedom, and successfully has managed his relationship with a big-name veteran quarterback (Tom Brady) and an unpredictable young QB (Jameis Winston).
The broader question for Bucs fans is what Arians would do if Leftwich left the team. Taking over playcalling is not what Arians desires, and Joe is highly skeptical of how quarterbacks coach Clyde Christensen would perform in that role.