Tom Brady On Pace For 6,011 Yards And 51 Touchdowns
October 10th, 2021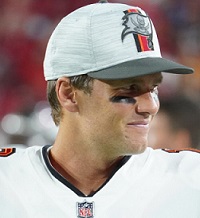 We're five weeks in and Tom Brady is cruising toward an extraordinarily special season.
How bout all that life in those 44-year-old legs!
Brady was dominant against Miami today, spreading the ball around like few quarterbacks can.
Brady finished 30-for-41 for 412 yards and 5 touchdowns without an interception. Multiply his numbers out for the 17-game season, and Brady is on pace for 6,011 yards and 51 touchdowns!
On the season, Brady has 15 touchdowns against 2 opening-day interceptions.
So much love is deserved for the Bucs' offensive line. Yeah, Brady takes too many cumulative shots for Joe's taste and desire to protect Brady at all costs, but overall the O-line has been fantastic.
Joe expects no let up from the Bucs' explosiveness. The Eagles, Thursday's opponent, have a better pass rush than Miami, but they remain vulnerable through the air.
Keep firing, Tommy!