Tom Brady Fridays Continue
October 26th, 2021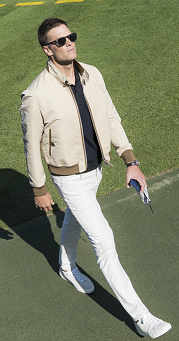 Stud Bucs left tackle Donovan Smith hosted a cornhole tournament fundraiser in north Tampa last night and JoeBucsFan operatives were dispatched there to sniff out information.
One nugget, which is sort of an update on an old nugget, came from Tristan Wirfs, one the many Bucs players that supported Smith at the event.
Weeks ago Wirfs talked about the run game struggles abating after Tom Brady started leading deep-study sessions on the rushing attack about 48 hours before each game.
The fixes were made, and the glorious evidence is on the field. However, the meetings continue, Wirfs said last night.
"You know we started meeting with Tom, you know us, the wide receivers, the tight ends, all of us together. So we all know what each other's doing," Wirfs said. "We're all on the same page.  I think that's been very beneficial. We do that Friday afternoons and I think that's really helped."
Joe is so grateful for all things Brady, especially after watching Jameis Winston's sideline meltdown on Monday Night Football last night as leader of the Saints' dink-and-dunk offense.