Tim Tebow: Bucs Are Best Team In Football
October 21st, 2021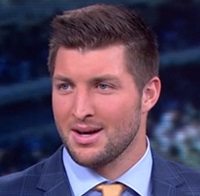 A share of Tampa Bay fans think Tim Tebow has a direct pipeline to a higher power. So how could Joe not share this.
Speaking on ESPN TV, the former Gators great and NFL quarterback and tight end was ranting about how the Bucs are the baddest team in the league.
Twice Tebow referred to the Bucs' plethora of weapons with the phrase, "It's a joke."
On Antonio Brown, Tebow said, "he's not really getting covered." And like many football analysts, Tebow rattled off names on the Bucs roster and shook his head in disbelief. "I think you have to look at them as the best team in football," he said.
Tebow said it. How could it not be true?