Bruce Arians Says He Would Miss His NFL Draft Control
October 21st, 2021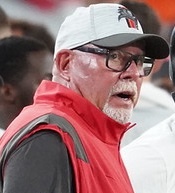 No sane Buccaneers fan wants Bucco Bruce Arians to retire.
Perhaps he'll stick around for more than the love of coaching.
Arians peeled back the curtain a bit on Tampa Bay's offseason process during a chat with The Colin Cowherd Podcast this week.
Most interesting to Joe was how much Arians seems to adore the NFL Draft build-up and decision-making.
He praised general manager Jason Licht for his leadership in the draft and Arians described a scouts board a coaches board, with Licht serving up options for Arians to weigh in on from about 140 total prospects.
"That is so much fun massaging that board the week of the draft. I used to hate the draft now I love the draft," Arians said. "When I was an assistant coach I had no control (laughs). You just get your voice [as an assistant]. You know, and then it's, 'Get outta here.' But now it's so much fun. And if and when I ever retired, that's something I'll really miss."
Arians said he orders each assistant coach to provide his top pick for the fifth or sixth rounds as part of the staff's pre-draft process. "You're not getting a first-round pick," he quipped.
Joe's glad Arians is having a blast. The head coach has said previously that his dream retirement scenario would be for one of his assistants take over for him because that would allow Arians "to stick around" One Buc Palace in some capacity. Perhaps that means personnel.