"The Logical X-Factor"
October 23rd, 2021
BY IRA KAUFMAN
It's time for Devin White to get off his high horse and make some impact plays.
Sunday would be a nice start.
Although defensive coordinator Todd Bowles is asking White to play more coverage in his third NFL season, Tampa Bay's defense needs some splash plays from an inside linebacker who was voted the league's 28th-best player in 2020.
White was a tackle machine last year, registering 140 stops to go along with 9 sacks, 15 tackles for loss and 16 QB hits. He was a postseason monster after missing the wild-card matchup at Washington when he was placed on the reserve/Covid 19 list.
He certainly looked healthy against the Saints, Packers and Chiefs in the playoffs, accumulating 38 tackles, two interceptions and a pair of fumble recoveries.
While the Bucs insist White's play hasn't fallen off in 2021, the numbers tell a different story. Through six games, White has 41 tackles and is still seeking his initial sack. More telling, he has yet to make a single tackle for loss.
"With a lot of injuries, we're kind of using him in different ways and asking him to do different things," Bowles says. "Right now, we're asking other people to be more impactful. He's probably doing more covering and more leaving and dropping in terms of those types of things. He is doing everything we're asking him to do and he's playing fine."
White has been one of the NFL's leading trash talkers since entering the league as the No. 5 pick of the 2019 draft. He's a fiery leader whose passion for the game has proven contagious.
When the 2020 season ended, there was every reason to believe White was on the cusp of stardom. While his 7 QB hits this year has him tied with premier pass rushers like Shaq Barrett and Khalil Mack, he has yet to produce a breakthrough game.
"We know we've got a long way to go," White says, "but we're all going to be better and start dominating soon. Right now, we're a little shaky, we're a little slow."
Tampa Bay's rush defense remains the league's gold standard, but opposing quarterbacks have been golden against an injury-ravaged secondary. This pass rush needs a boost — and White is the logical X-factor for Bowles going forward.
Despite playing 100 percent of the defensive snaps, White has yet to make his presence felt to a significant degree. Teammate Richard Sherman says White is relentless, adding "he's everywhere."
Now it's time for White to show up in the backfield, disrupting plays and forcing giveaways for a defense that is allowing an average of 24 points per game.
"Coming into a game, we get everybody's best shot," White says. "Teams are playing us so hard. We've got to bring it, but we find ways to win. That's what great teams do."
Great players find ways to make a difference. That's what White did repeatedly in 2020.
The rest of the Bucs fed off his energy and rare closing speed. We haven't seen that same dynamic impact, but there are 11 games to go and Bowles may decide to turn White loose against the offensively challenged Bears.
White needs to introduce himself to Justin Fields in dramatic fashion, especially with Lavonte David still out with an ankle injury.
Tom Brady and this prolific offense have been carrying Tampa Bay during a 5-1 getaway, so Buc defenders need to start doing their part.
That begins with Devin White, the heartbeat of this defense. White sets the tone and Mr. Fields needs to feel his "relentless" presence in Week 7.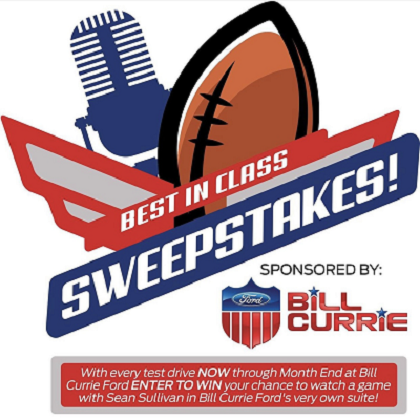 Watch a home game in style!!
Test drive a vehicle this month at Bill Currie Ford one mile north of the stadium on Dale Mabry Highway and make sure to say you want your name in the mix for the Best In Class podcast sweepstakes. It's that simple. GM Sean Sullivan is fired up to watch a game with you in a suite and talk Bucs!