Bears At Bucs, TV Map
October 23rd, 2021
Will you get to see the Bucs host the Bears in a throwback (nee) NFC Central fistfight on FOX? Joe is here to help.

Most of the nation will have free access to the Bears-Bucs game. It seems the only folks who won't are those who live in Arizona, Oklahoma or Texas.
Yes, America likes the Bucs.
CBS is sending its heavy-hitters to Tampa to call the game, Jim Nantz and the pride of Eastern Illinois, Tony Romo.
Let's hope the Bucs have as much luck with Nantz and Romo as they delivered calling the Super Bowl.
Of course, Bucs fans can head to Big Storm Brewery in Clearwater, Odessa, Cape Coral or downtown Orlando at the Amway Center to watch the game. Naturally, visiting your neighborhood Hooters is always a wise move. Bonus: Select Hooters in Florida carry Big Storm beer on tap!
(Streaming information and options will be included in the "Gameday Tampa Bay" post scheduled to publish here at midnight.)
As always, TV coverage maps are courtesy of 506sports.com.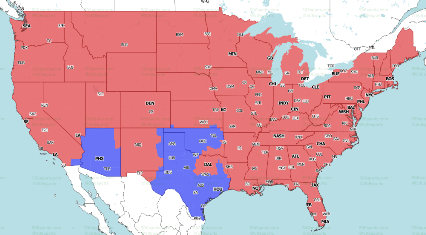 Red: Chicago @ Tampa Bay
Blue: Houston @ Arizona