"A Mesh Of What Brady Really Loves"
October 23rd, 2021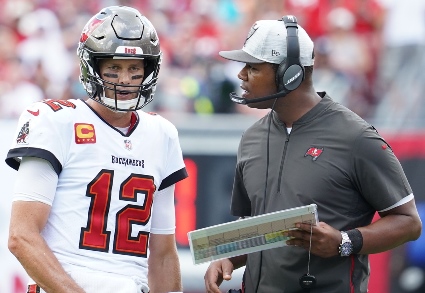 Joe loves hearing about the Bucs offense from those in the know. Hall of Fame quarterbac Kurt Warner did a hell of a deep dive on Bucs film recently on YouTube.
On Friday, former Bucco Bruce Arians Pro Bowl QB Carson Palmer was chiming in.
Both are extraordinarily impressed by the growth of the Brady-Arians-Byron Leftwich offense.
Palmer told The Rich Eisen Show that he sees the marriage reaching a new level and he believes the Bucs can finish the season No. 1 in nearly every offensive category.
"You can see that there's been a mesh of what Brady really loves, what he's really comfortable with, a lot of his strengths and maybe some of the Josh McDaniels and Bill O'Brien stuff he was running in New England forever. You can see it," Palmer said. "There's no miscommunications. There were so many times last year Mike Evans would break in and the ball would be thrown out, and vice versa. You're just not seeing that anymore."
Palmer's broader point was that the Bucs have room to improve this season despite their high level of execution and their growth from 2020.
Joe hopes to kick back and enjoy watching it all blossom a little bit more tomorrow at The Licht House.
Dial up today's Ira Kaufman Podcast