Showcase Game For O.J. Howard
October 1st, 2021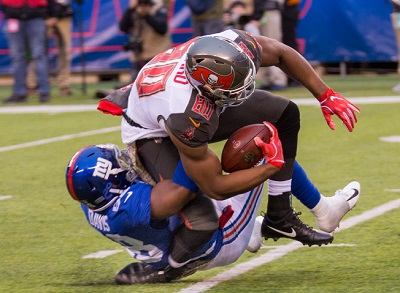 Coming up on his 27th birthday in his fifth NFL season, O.J. Howard's NFL career is ready for a fair assessment.
Howard has done little since his ugly ankle injury against the Giants midway through the 2018 season. (See the JoeBucsFan photo above.)
Trouble adjusting to the Bucco Bruce Arians offense and blocking woes hit him 2019, and then a major Achilles injury struck early in 2020, just when the Bucs' 2017 first-round pick was looking like he might have a breakthrough season.
Howard is about one-year into his recovery from surgery and Arians said 10 days ago that the plan is to play Howard more.
Well, now that Rob Gronkowski officially is "doubtful" with busted up ribs for Sunday night, Joe is seeing a massive opportunity for Howard on a national stage.
Howard played 14 snaps (20 percent) against the Rams on Sunday, up from 11 against the Falcons the prior week.
Can he get up to 30 snaps at full speed?
Howard is in the final year of his conract and is earning about $6 million. He's nearly annually been the subject of trade speculation, often to the Belicheats, Sunday's opponent. Joe doesn't think that's a coincidence.
Sunday could prove to be a crossroads game for Howard in more ways than one.
Watch the Bucs Sunday night with Ira! @IKaufman76 @BigStormBrewing Clearwater.
Fun time ahead with A+ food and Florida's very best craft beer. https://t.co/vGcehHQRHu
Gorgeous covered patio or indoors. pic.twitter.com/Skh28hZlfc

— JoeBucsFan (@JoeBucsFan) October 1, 2021