Richard Sherman Reality — Act II
October 11th, 2021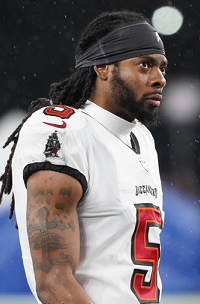 Yes, Richard Sherman missed a tackle on the Dolphins' opening play yesterday, four plays before he gave iconic Miami receiver Preston Williams an eight-yard cushion on 2nd-and-1.
Williams was targeted on that snap, caught the pass in front of Sherman and blew past him for a 34-yard gain like Sherman wasn't there.
Perhaps Sherman, in fact, was not there. Bucs fans have yet to see the special cornerback known as Richard Sherman.
Is someone going to tell Joe that Sherman was too gassed and not up his playing capability on the game's opening drive?
Fast-forward to the end of the first half and Sherman missed key tackles as the Dolphins were in their 2-minute drill. At 1:26 remaining, Sherman flat out whiffed, and two plays later he was at it again allowing Miami to get in field goal range and out of bounds.
The Shaq Barrett strip-sack bailed the Bucs out before halftime.
Sherman was given the brutal task of jumping into the Bucs' starting lineup against the Patriots despite just three practices. And then came yesterday's performance a week later (Joe will spare readers a look at the second half).
Perhaps it remains unfair to expect much from Sherman off the street at 33 years old. But Joe's not sure Sherman will improve much. He looks a step slow and gassed and hardly eager in the run game.
Joe remembers very well when a 32-year-old and healthy Darrelle Revis signed a lucrative two year deal with the Chiefs in November of 2017. (Yes, November.). Revis put very ugly play on film and the Chiefs cut him after the season.
He never played again.
Joe is pulling for Sherman but not as hard as Joe is praying for Carlton Davis and Sean Murphy-Bunting to return. Sorry, but Joe's not about to pretend the guy's looking any better than Dee Delaney or E.J. Biggers.