Loss Could Be A Major Positive
October 31st, 2021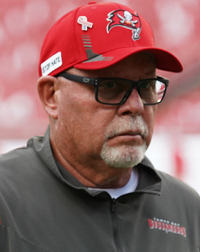 If the Bucs didn't think their crap stunk before today's game leading into the Week 9 bye, now they know.
And good coaching will take advantage.
If there was a shred of a Super Bowl hangover at One Buc Palace, which their didn't appear to be, then now it's out in the open. The Bucs have been hammered on the road by the Rams and the Saints.
Tampa Bay has work to do. They were road warriors through the playoffs last season, but something has shifted.
Maybe it's wild crowd noise like they got in Los Angeles and New Orleans? Discipline and effort are critical to overcome those conditions.
Anyone like the Bucs' combined discipline and effort today at the Superdome?
Joe knows the team can't win every game. They just wrapped up a 16-game, bye-week-to-bye-week run at 14-2.
But now it's November and there is no room for error to achieve what this old Bucs team needs desperately in a 17-game season — the No. 1 seed in the NFC.
Tom Brady has been here before and knows what to do, and Bucco Bruce Arians now has smooth sailing to crack his whip like a wild man over the bye week.
Maybe, just maybe, that's better than the Bucs feeling great about themselves at 7-1 and doing a bunch of national interviews over the next two weeks.