"Lenny's Punishing People"
October 15th, 2021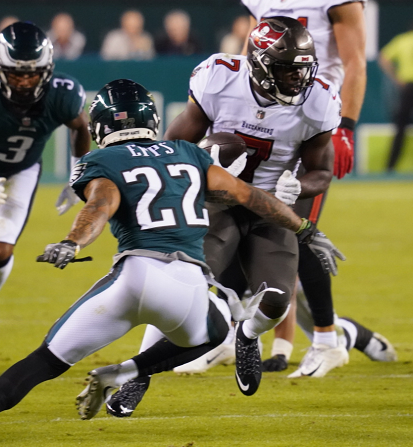 At times against the Eagles last night Joe was having 2010 flashbacks.
Leonard Fournette was running like an angry worker, daring defenders to take him down and lowering his head and embracing contact. Joe was seeing a little LeGarrette Blount in his glory year with Tampa Bay. But Fournette can catch and run like Blount never could.
This fierce version of Fournette is impressive.
"Lenny's punishing people," Bucco Bruce Arians said after the game. "You see the defensive guys jumping up and down on the sidelines" inspired by him.
Tom Brady called Fournette "a great back" and said "when he's rolling it's tough to stop us."
Fournette finished the game with 22 carries for 81 yards and two touchdowns. And he caught all six targets thrown his way for 46 yards.
Over the past three games, Fournette has hammered out 54 carries for 240 yards and three touchdowns, while reeling in 13 catches for 136 yards.
He once again looks like Playoff Lenny.