Winning Without Greatness From Devin White
October 15th, 2021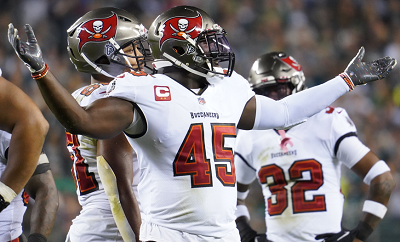 Joe is so encouraged by the Bucs' 5-1 start, despite savior linebacker Devin White looking like a mere mortal and little like the force he was in the playoffs last season.
Joe never could have imagined a healthy White opening this season with zero picks and zero forced fumbles or sacks through six games. White's tackle numbers are down, too.
It's hard to believe.
White is hungry and working and it's just not happening for him they way it once was. Joe puts a some of it on Todd Bowles, but White has to bear the brunt of it.
Regardless, it's damn exciting to think of how the defense might hit a new level — and it's been damn solid the past three games — if White can start making plays.
Joe knows White will keep grinding and focusing. He will not relent. If the numbers don't come, then maybe Bucs fans will have to consider him very good and not great.