An Up Night For Jamel Dean
October 15th, 2021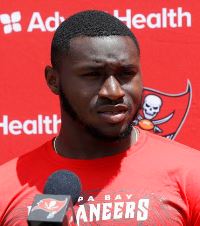 Jamel Deans seems to be a bouncing basketball of an NFL cornerback.
At times, Dean plays like a Pro Bowl corner. That's right, Joe typed that.
Other times you're convinced Dean's days with the Bucs are numbered and not because he's going to sign a filthy rich contract somewhere else.
Last night was one of those good games from Dean, and the Bucs sure needed it, especially after Richard Sherman blew out a hamstring.
Dean had a pick and four passes defended. The Eagles clearly targeted him and last night he was up to the task.
Though Eagles wide receiver Quez Watkins fully butchered his pass route down the left sideline, Dean took advantage and he looked like the receiver on the play while Watkins looked like the piece of burnt toast corner.
How good of a game did Dean have? Per the Bucs, Dean, for the first time in his NFL career had picks in back-to-back games. Dean also has five games with four or more passes defensed since 2019. That's three more than any other NFL player in the same timeframe.
Right now Dean is on a roll. Given his history, you don't know when the next rotten game will come. It could be a week from Sunday against the Bears, it could be in two months. History suggests it is coming.
After the game Dean had last night interceptions in consecutive games, perhaps that's why Bucs Super Bowl-winning coach Bucco Bruce Arians said after the game he didn't think the Bucs were going to make a move for another corner.
From NFL Now: #Bucs CB Richard Sherman is likely out a couple weeks with a hamstring injury. pic.twitter.com/6zyR95vCao

— Ian Rapoport (@RapSheet) October 15, 2021