Ira Kaufman's 10 Takeaways From Bucs-Eagles
October 15th, 2021
BY IRA KAUFMAN
That was a classic image of Bruce Arians puffing on a post-game victory cigar last night while waiting for the bus to depart to the airport.
Arians appeared calm and relaxed as he checked his phone for messages.
He looked like a guy who didn't have a care in the world, a head coach who was proud of Tampa Bay's 5-1 start.
Good for Arians.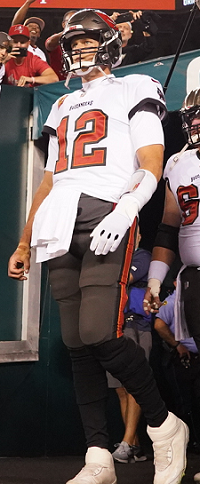 While the 28-22 final score represented a bad beat for any bettor who had the Bucs laying 7 points, the truth is Tampa Bay was in control from the start.
Jalen Hurts showed he still has far to go as an accurate passer as Tom Brady turned in another masterful effort.
The Buc offense is both balanced and precise at the moment, converting 7-of-13 on third down against a decent Philly defense that couldn't get off the field.
A couple of pass interference penalties helped the Eagles make the final score closer than it deserved to be and now the Bucs have extra time to prepare for a home matchup against the Bears.
Richard Sherman's hamstring injury won't help this depleted secondary, but Carlton Davis, Sean Murphy-Bunting and Antoine Winfield Jr. may be back in time for a November push. O.J. Howard and Cameron Brate caught nine of the 11 passes sent their way, so there's no need to rush back Rob Gronkowski.
The arrow is pointing straight up for the defending champs, primarily because a well-protected Brady is having fun keeping everyone involved.
While Leonard Fournette and Antonio Brown are the headliners at the moment, nobody would be surprised if Mike Evans and Chris Godwin are the stars in Week 7.
Here's how the Bucs broke Philly hearts yet again Thursday night:
* That sore right thumb really hampered Brady, didn't it? All he did was complete 34 of 42 throws against a pass defense that entered the game ranked No. 3. The Eagles decided to sit back and play soft coverage, so Brady picked them apart, piece by piece. Now he says he might play until he's 55. Arians says bring it on.
* Brown has turned the clock back and Brady is loving the time change. His stat line Thursday night was 9 catches in 13 targets for 93 yards and a touchdown, but mere numbers don't tell the real story. This guy's always open. He also turned in the game's signature play when he made a difficult reception on third-and-7 in the final moments that basically secured the win.
* Fournette is running with abandon and has emerged as a credible receiving threat out of the backfield, accounting for 127 yards from scrimmage. He has left Ronald Jones in his wake and is in the process of earning himself a tidy salary in 2022.as a potential free agent.
* The trench warriors in front of Brady are setting a high bar. Good health has provided continuity and this is a tight, prideful group. Brady was not sacked and the Eagles managed only three QB hits. Given that kind of time, Brady is too smart and resourceful to handle. Run blocking has also been exceptional in the past three weeks, so Joe Gilbert and Harold Goodwin deserve a bow.
* Jalen Hurts has every right to complain about the first-half game plan. Miles Sanders isn't Derrick Henry, but he has averaged 4.9 yards per carry in his NFL career. Sanders got one rushing attempt in the opening half — one — while Hurts was completing 5-of-14 throws. We all know the Bucs are murder to run against, but that's awful coaching.
* The highs and lows of an NFL cornerback … Jamel Dean can write a book about it.
* That's three consecutive games in which Tampa Bay has enjoyed at least 20 more snaps than the opposition. That's called domination on both sides of the line of scrimmage.
* The Buc defense played well overall, but Philly's opening possession was a low point. Hurts scrambled for a first down on third-and-7 and completed a 23-yard pass on third-and-12. A 45-yard pass interference penalty against Dean helped the Eagles overcome a first-and-25 situation. Nobody covered Zach Ertz to cap the drive and now Ertz is a member of the Cardinals. Perhaps the Bucs will see him again in the postseason.
* Facing one of the league's most mobile quarterbacks, Todd Bowles preached discipline to his defensive unit. The Bucs did a nice job of staying in their rush lanes and Hurts often appeared frustrated by his inability to stretch Tampa Bay's defense. Shaq Barrett led the way with constant pressure off the right edge.
* If the favored Browns beat unbeaten Arizona Sunday, the Bucs will be tied for the best record in the league. Not too shabby, especially with the prospect of key players returning after the bye week. Better stock up on those victory cigars, coach.
Ira Kaufman Dives Headfirst Into The Jon Gruden Mess On His Latest Podcast.