Ira Kaufman's 10 Takeaways From Bucs-Dolphins
October 10th, 2021
BY IRA KAUFMAN
There's that killer instinct Buc fans have been pining for.
Clinging to a 24-17 advantage through three quarters, the Bucs put the hammer down and nailed a 45-17 victory that gives Tampa Bay undisputed possession of first place in the NFC South.
That 21-0 blitz within a 6-minute span afforded Tom Brady a seat on the bench as Blaine Gabbert mopped up with aplomb. The Dolphin defense had no answers all afternoon as Tampa Bay rolled up 33 first downs and 558 yards.
Twenty-six of those first downs came through the air as Brady posted a passer rating of 144.4 before calling it a day.
In their most complete effort of the season, the Bucs finally put the clamps on Myles Gaskin, who looked like Marshall Faulk for most of the day, catching all 10 balls sent his way, including a pair of TD receptions.
Now it's on to Philly off a short week, with the Eagles buoyed by a comeback victory against the Panthers that may have salvaged their season.
The Bucs had it all going on offense and Byron Leftwich did a nice job keeping Miami off balance. That's three consecutive games without a giveaway for Tampa Bay, which coughed it up four times in Week 1 against the Cowboys.
There are some issues to correct — but not many.
The offensive line continues to shine, especially at right tackle, where Tristan Wirfs obliterated anyone Miami sent his way. Even with Rob Gronkowski sidelined, Buc fans saw the multitude of weapons at Brady's command. Brady threw short, he threw long and most of all, he threw accurately behind stout protection.
Here's how the Bucs went to 3-0 at home and raised their scoring average to a juicy 33.4 points per game:
* Give Leonard Fournette his props. The guy is running hard, breaking tackles and displaying reliable hands to earn Brady's confidence. Fournette accounted for 110 yards from scrimmage while averaging 5.6 yards on his 12 carries. At the moment, he has deposited Ronald Jones in his rear-view mirror.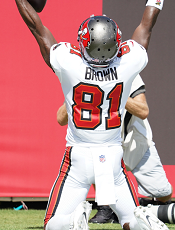 * Antonio Brown is putting on a show, folks. In his last 10 games as a Buccaneer, including the postseason, Brown has 48 catches for 672 yards and NINE touchdowns. Not bad for a third option behind Mike Evans and Chris Godwin. Man, is he smooth.
* If you watch a replay of the game, check out Wirfs. He's back to form from his rookie year, when I voted him the best right tackle in the league on my All-Pro ballot for the Associated Press.
* Some Buc fans were relieved when Bruce Arians said it looks like a high ankle sprain for Lavonte David. Yes, it could have been worse, but that injury usually puts you out for at least a month.
* Some trends continued on Sunday — nobody runs on the Bucs and opposing quarterbacks generally have their way. Jacoby Brissett just completed 27 passes for 275 yards, despite nursing a bum hamstring. Many were short throws, but Miami also registered six completions of 21 yards or more.
* Since the loss in Los Angeles, the Bucs have dominated time of possession with a balanced offense. They converted 8-of-11 on third down against the Dolphins, punted only once while enjoying 21 more snaps. In Foxborough, the Bucs had 20 more snaps than the Patriots. That's called winning in the trenches and that will pay off big down the stretch.
* How lopsided was it? Every Buc player who dressed on Sunday got into the game.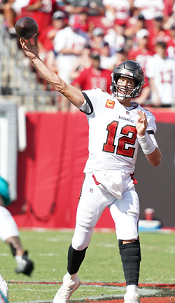 * It's never easy to be on the road for Thursday Night Football, but the Eagles are nothing special. The biggest challenge for Todd Bowles? Making Jalen Hurts beat you with his arm rather than his legs. He'll be the first ultra-mobile QB the Bucs have faced this season, so look for Bowles to substitute freely up front to keep the Hurts hunters fresh.
* Brady continues to amaze. Coming off a mediocre (for him) evening in New England, Brady just posted his third game of the year with at least four TD passes. He's got 15 through five weeks, only one behind his pace in 2007, when he finished with 50 while leading the Pats to a 16-0 regular season.
* Remember when the Bucs couldn't win at home? Those sickening days are over. In regular-season play, Tampa Bay has run off five consecutive victories at Raymond James Stadium, averaging 39 points per game. Warren Sapp used to ask for 17 points from the Buc offense.
Yes, times have changed.