Brady Describes Bucs' "Thirst"
October 12th, 2021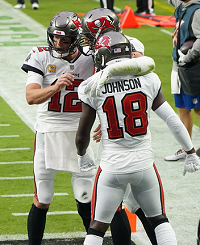 Have the Bucs become more of a team-first group?
Tom Brady thinks so.
When Brady wasn't talking to Snoop Dogg about women dancing in the wee hours on Let's Go! last night, Brady was chatting Bucs football during the SiriusXM Mad Dog Radio broadcast.
The Goat is all fired up because he feels his teammates have matured into great champions so quickly.
"I think what's exciting for me is that all these guys are happy for one another," Brady said. "You know, you don't really think that's the case because football, you know, there's a lot of statistics involved. But after winning the Super Bowl last year, I feel like our team has a thirst for that, and more of a thirst for the team accomplishments than the individual accomplishments."
Brady emphasized that he's rapidly building chemistry with receivers, the kind that takes many years to forge. He explained it nearing the connection he has with Rob Gronkowski, where they think the exact same things on the football field.
Great chemistry and understanding allow for "more margin of error," Brady said, and the way the Bucs offense spread the ball around and ran it on Sunday was exactly how the offense should always be.