Wild Pace For Gronk
September 19th, 2021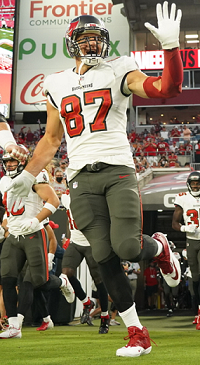 Joe was looking at Rob Gronkowski's career games and his thunderous 2021 start is his best since 2015.
That year is the last time Gronk caught double-digit touchdowns in a season.
Immediately after a fourth-quarter holding penalty by Gronk this afternoon, Tom Brady targeted Gronk over the middle and the play went incomplete. It broke a streak of Gronk catching his first 12 targets of this season.
That's how sizzling hot he's been.
Gronk's four touchdowns in the first two games is something he's done previously — when he was carving out the prime of his Hall of Fame career.
No, Joe's not looking past the Rams next week in any way. But Joe can only imagine how much Brady and Gronk will be studying Patriots film and plotting to run up the score together in two weeks.
What should scare the NFL is how healthy Gronk appears and that the Bucs don't need to rely on him to be a punishing blocker on every down.
How wild would it be for Brady and Gronk to have their personal-best seasons in Tampa?