Tom Brady Says Interceptions Are His Most Important Stat
September 4th, 2021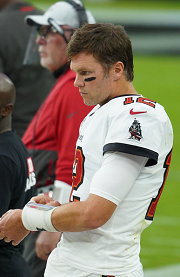 After hearing this, Joe has to wonder what the discussion was like between Tom Brady and Bucco Bruce Arians when they first watched film and talked about Jameis Winston within the Tampa Bay offense.
"If there's one stat I care most about, it's interceptions thrown," Brady told Buccaneers.com. "I do not like throwing interceptions. So if I'm going to think about one thing after a game, it's whether or not, I don't care if I threw 9,000 touchdowns in a game. If I threw one pick, I'm going to be pissed that night. That irritates me for than anything."
Brady's comment came during a panel discussion. He was asked what statistic he would want to be the very best in.
It's an intriguing answer considering Arians quarterbacks have always thrown their share of picks.
Last year, Brady threw 15 interceptions through 20 games (including postseason). It tied his 2011 total (19 games).
Without digging deeper, Joe can't say Brady's picks last season cost the Bucs a game, but perhaps one or two. Joe suspects Brady will keep the interception total at 10 or less this season.