Mike Evans, Gronk Pick Most Underrated Buccaneer
September 4th, 2021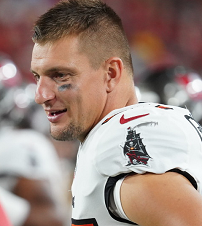 Interesting to Joe about this answer was the lack of hesitation by Rob Gronkowski.
A panel of legendary Bucs was hosted by Buccaneers.com recently: Tom Brady, Mike Evans, Lavonte David and Gronk.
Each player was asked to name his most underrated Buccaneer. Lavonte David mentioned the defensive front-7 while Tom Brady went with his offensive line. Both gave sound reasons.
Evans agonized to name a name but went with Chris Godwin.
"Chris Godwin, if I had to choose," Evans said. "I mean he's a top 5 receiver in this league and he doesn't get enough credit. He's an unbelievable player. He can do it all – short routes, deep routes, run after catch, block, very durable, very smart, great teammate. I think he's the most underrated player we have."
Gronk was very quick to pull the trigger on safety Antoine Winfield, Jr.
 "I'll say Antoine Winfield … how distinctive he is," Gronk replied. "The way he just knows football and is around the football and his overall game."
Gronk added that he enjoyed watching Antoine Winfield's dad play for Buffalo and it's obvious that the younger Winfield is an extremely sharp player.
Extremely high praise from a Hall of Famer right there. And Joe wonders how many NFL general managers were listening to the sincerity in Evans' voice when he made the case for Godwin, who could be a free agent after this season.
---
Enjoy today's Ira Kaufman Podcast!