Tom Brady Passes When Asked About Bucs' Home Field Advantage
September 19th, 2021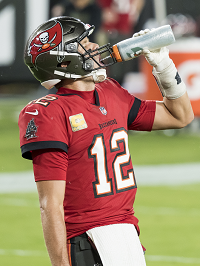 So the Bucs are back home today in a game that is not sold out.
Plenty of good seats available at The Licht House (non-resale, face value) via Ticketmaster. The Buccaneers' official site is promoting the link.
That sure is odd, considering the Bucs claimed "every available seat in the general admission, premium and club areas, and luxury suites for the entire home slate was issued to existing or new season pass members. In response to the unprecedented demand, the Buccaneers also introduced a waiting list for individuals hoping to purchase season passes in future seasons.
Regardless, it's a 4:05 kickoff in the Florida summer swelter.
Some past Bucs coaches and players believe that's an advantage for the home team.
Tom Brady had a shot to go there on national radio Monday and punted. Speaking on SiriusXM Mad Dog Radio, Brady was asked by Jim Gray what kind of home field advantage is the Tampa heat.
"Man, it's tough. It's something I'm getting used to, though," Brady replied.
Joe was expecting upbeat, Florida Man Brady to express his love for the elements and how well the team is positioned to capitalize on them.
Perhaps he'll feel more confident in the heat after the Bucs pound the Falcons today.