"Organic Nonsense"
September 19th, 2021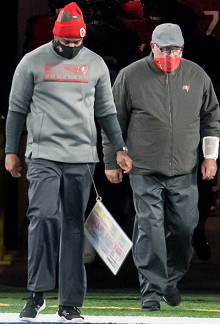 You've heard the chatter from Bucs offensive coaches.
They don't care about targets or touches for a certain player. Gameday is all about winning and not a balancing of egos and stats.
Bucco Bruce Arians makes that very clear, as does offensive coordinator Byron Leftwich, who likes to use the term "organic" to describe the flow of his offense in each game.
Those who listened to the latest Ira Kaufman Podcast heard The Sage of Tampa Bay Sports refer to "organic nonsense" and talk about coaches absolutely caring about egos and touches and who is involved and how much.
Harsh take from Ira, but there's so much evidence to back it up.
After how many games last year did Bucs fans hear Arians say Mike Evans has to get more involved?
Also, look what the Bucs did with Evans against Detroit, and with Antonio Brown in the season finale. Then there's declaring Ronald Jones a starter today on Tuesday after saying all summer that who starts at running back is not relevant — which prompted Joe to dump cash on RoJo getting more than 10 1/2 carries today (the over/under betting line).
There are several other examples — and they are all just fine.
Arians and Leftwich are managing a roster, not just winning one game at a time. The great coaches do both with the perfect touch.
Every game is not "a one-game season" like former Bucs commander Greg Schiano used to say constantly.
"Organic" today may not be good for the long term. Joe's eager to see how the Bucs approach the Falcons defense, and how they attack and who they uses if they're up by a few scores.
Enjoy the latest Ira Kaufman Podcast.