Tom Brady On Pace For NFL Record 76 Touchdowns
September 19th, 2021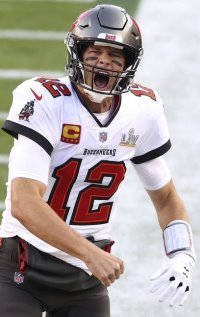 Joe sure hopes everyone is enjoying the historic nature of all things Tom Brady.
Through two weeks, Brady has nine touchdown passes after dropping five on the Falcons today at The Licht House. It was the eighth, 5-TD game of his career, and it seemed it wasn't a special effort.
In a 17-game season, that puts brady on pace for 76 touchdowns this season. The NFL record is 55 (Peyton Manning in 2013).
The crazy thing for Joe is that the Bucs seem to be able to throw at will, despite a running game that doesn't scare anyone.
Yeah, a much bigger test comes next week, but Joe does not expect the Rams to slow down Brady. They may light up the leaky Bucs defense, but Joe isn't concerned about Brady ringing up the scoreboard.
Antonio Brown was a hero in Week 1 but did nothing today. No problem. The Bucs are so loaded it doesn't matter. They haven't even used Scotty Miller yet.
Maybe Brady can start throwing to Mike Edwards!