Buccaneers 48, Falcons 25
September 19th, 2021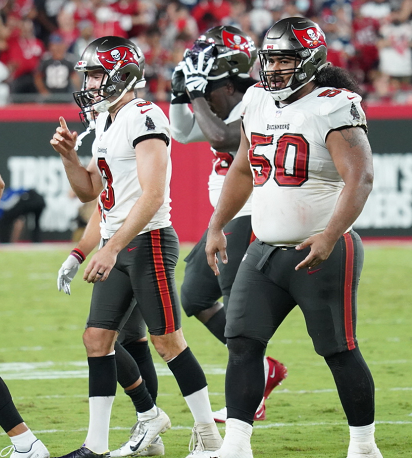 That's 10 in a row!!
Man, Bucs fans have gotten spoiled. Lots of whining and crying early this afternoon because the Bucs didn't put the Falcons away before halftime.
But that's life now from Lakeland to Largo. Joe, along with every other red-blooded Bucs fan, is now programmed to expect 60 minutes of greatness. And considering the Bucs' loaded roster, it's understandable.
The run defense was its historic smothering self all afternoon, and the depleted pass defense did just enough to be effective until Mike Edwards took over the fourth quarter.
Major love for the front line. Vita Vea's batted pass was snatched out of the air by Shaq Barrett, and that was the dagger that led to the Mike Evans touchdown that put the Bucs up 28-10 early in the second half..
The Bucs' offense? What can Joe say. It's freakin' historic. It seems Tom Brady with all this firepower can overcome all kinds of mistakes, from penalties to sacks and the Ronald Jones Experience.
It's on to Los Angeles!
How much fun would a Bucs-Raiders Super Bowl be?

— JoeBucsFan (@JoeBucsFan) September 19, 2021